DOCUMENTING ELVIS'S HISTORIC SOLD-OUT 1970 CURTIS HIXON HALL CONCERT
25 Rare Photographs, Concert Review & Song List
As seen by musician & music writer Rick Norcross
from the pages of The Tampa Times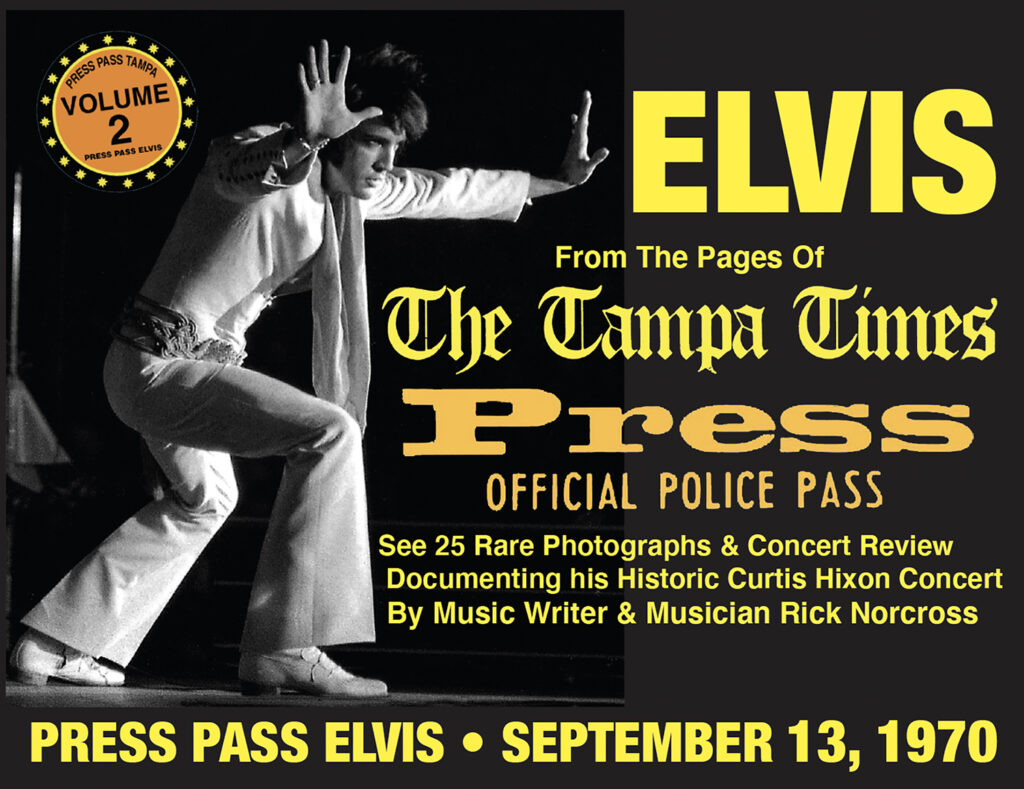 Press Pass Elvis is loaded on a USB Flash Drive and is priced at $35 which includes postage and handling. All photographs in the Press Pass Elvis collection are available as prints suitable for framing. NOTE TO ORDER PRESS PASS ELVIS – PLEASE CONTACT RICK BY EMAIL – [email protected]
These rare Elvis Presley photographs emerge after 51 years to document the spirit and the unbridled energy of the "King of Rock & Roll," a true American Superstar, caught at the peak of his career. Elvis may have left the building but his music and legendary persona live on, buoyed by the quality of his seminal performance in Tampa on September 13, 1970.
The Press Pass Elvis collection shines a spotlight on Elvis Presley's historic afternoon performance at Tampa's Curtis Hixon Hall when he delivered a stellar performance at the first of two sold out shows on Sunday, September 13, 1970. Press Pass Elvis is an up close and personal account of Elvis Presley, the King of Rock & Roll at the very top of his game, taking Tampa by storm.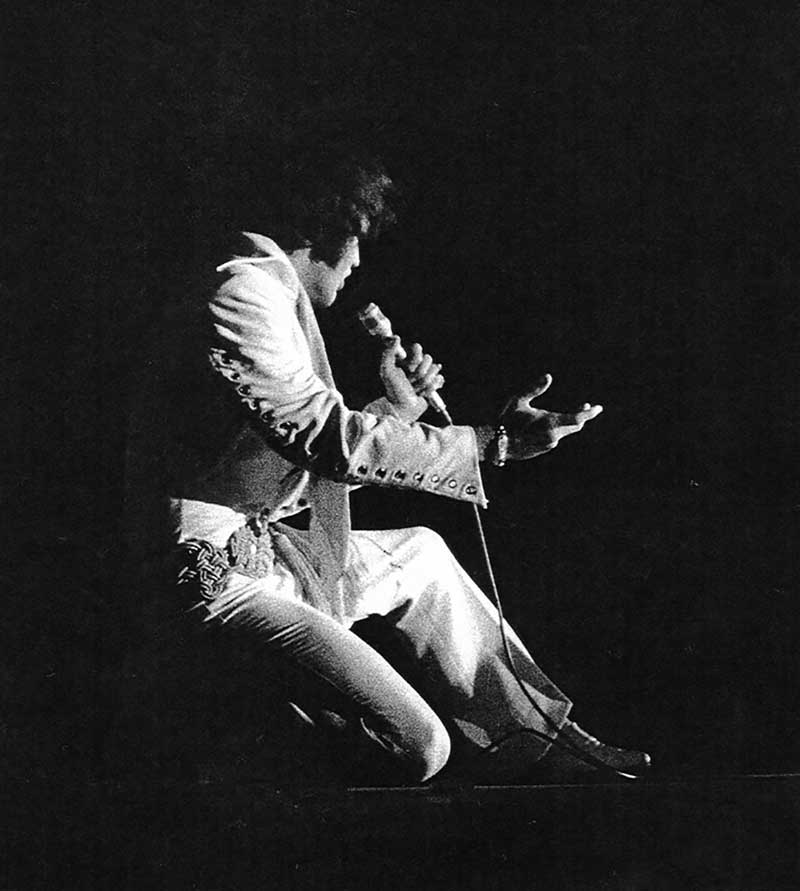 Elvis broke free of the Hollywood movie grind and the showrooms of Las Vegas and, for the first time in 10 years, embarked on a live tour in front of arena audiences. Elvis had appeared in Tampa four times in 1955 and 1956 at Fort Homer Hesterly Armory, but this was his first show back in Tampa on the big stage at Tampa's largest concert venue, Curtis Hixon Hall. Elvis sold out both shows that afternoon and evening bringing a combined crowd of 14,400 rabid Elvis fans to enjoy his performances.
With this second release in the Press Pass Tampa series, music reviewer and photographer Rick Norcross has gathered his Tampa Times review of the Elvis concert, program notes, never before seen photographs of Elvis on stage and even the song list that Elvis performed that afternoon and evening for this collection.
The Press Pass Elvis collection contains 25 rare photographs taken during the show. Elvis's manager, Colonel Tom Parker, issued strict orders that there were to be absolutely no photographs taken of Elvis during his concert. A New York Times photographer was quickly tossed out the back door of Curtis Hixon Hall by concert security within the first 10 minutes of the performance. Because Norcross was a familiar face to the Tampa Police and Curtis Hixon staff, having regularly covered concerts for the Tampa Times, and because he was shooting available light (no flash), they looked the other way and allowed Norcross to shoot countless images of Elvis for his Tampa Times review.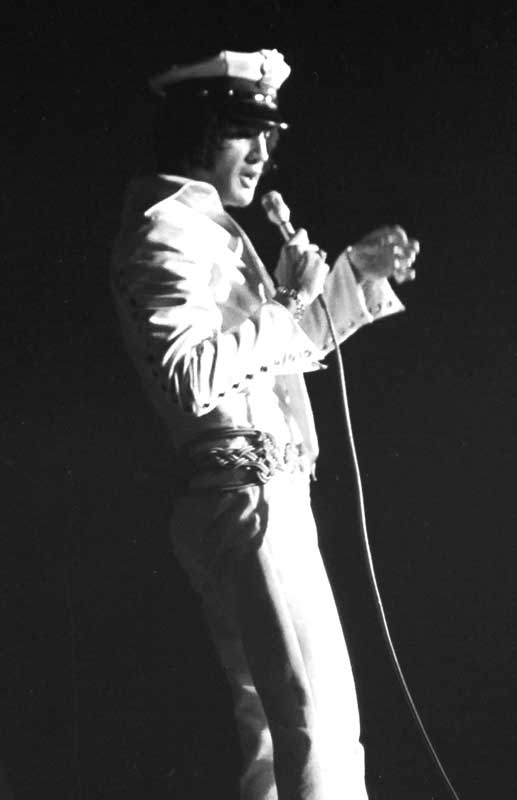 Now these photographs emerge to document the spirit and the unbridled energy of Elvis, the King of Rock & Roll, caught at the peak of his career, still rocking and buoyed by the quality of these seminal performances. Physically, Elvis was in his prime and he looked fit as a fiddle, or in his case, a guitar, slim and trim. He took in the screams of adulation and bounced that positive energy right back, much to the delight of his fans. Elvis was at his best and he turned in an unforgettable performance that afternoon, obviously having just as good a time as his audience. Crowd pleasing? You bet! During his show, he tossed a couple of his scarfs out into the audience and at one point Elvis even bent down and snatched a Tampa Police officer's hat and wore it while he sang.
HOME – ABOUT PRESS PASSS TAMPA – ABOUT PRESS PASS ELVIS – ABOUT RICK – REVIEWS – ORDER – CONTACT